Massage Treatments to increase your health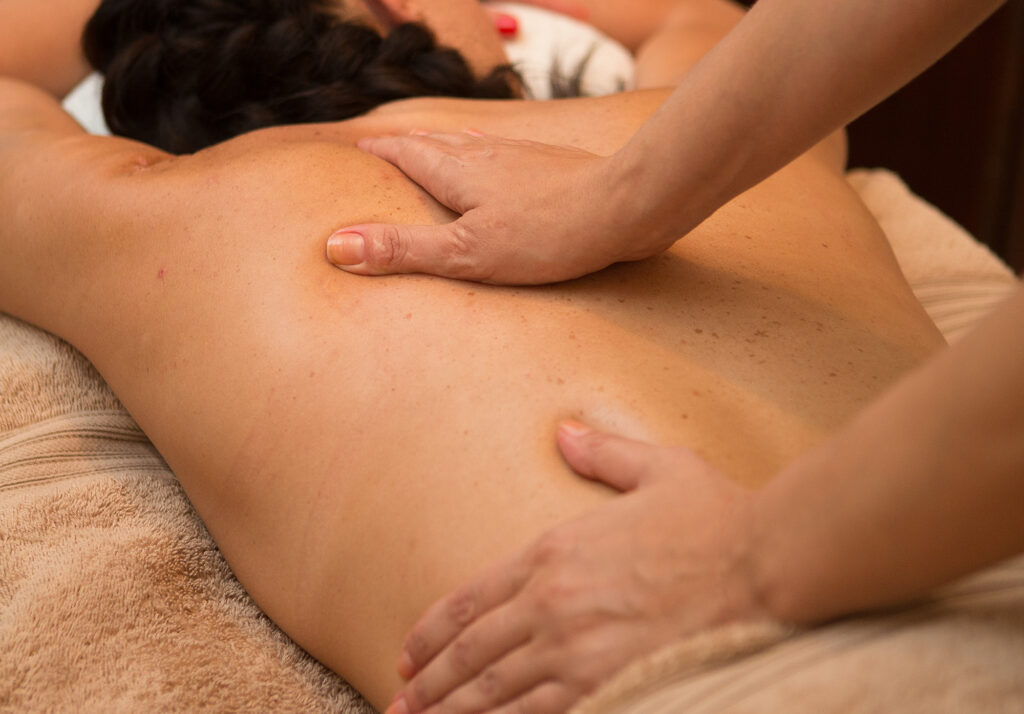 Relax
Regenerate
Release 
Revitalize
Release stress, relieve your pain and get back in balance
Treat yourself to a stress release massage, a lymph drainage massage, a firm deep tissue massage, or a foot reflexology massage. You can also choose a massage that is tailored to you and in which I combine different treatment styles.
A massage is wonderful for just relaxation, but it can be beneficial for so many things: from prevention to cure.
It will support you when you suffer from any form of stress or anxiety.  
A massage will release physical discomfort and helps when you have insomnia or migraine.
Treatments will improve your immune system and stimulates the self healing process of the body.
Your blood circulation will be activated and a massage excretes waste out of the liquid system.
Your stiff muscles are loosened up.
It helps to restore muscular and postural imbalances, like a 'forward head posture'.
And of course a massage is  a wonderful way to relax, to restore and to enjoy.  To have a moment for yourself. 
I like to call my treatments holistic, as this means you look at the whole, ; it approaches every aspect of a person's life – body and mind
How often do you take a massage treatment?
This all depends on what is the reason you are taking a massage. If you just want to relax, you can, for example, take a treatment once a month.
In general, physical and mental problems and discomfort do not arise overnight. And are therefore not immediately resolved.
A single treatment is of course possible and supportive. However,  experience is that on average of 6 treatments are required to yield the desired result.
What kind of massage are you looking for?
There are different types of massages that I provide.  Do not worry if you can't choose. I make sure I tailor the massage to your specific needs and situation. I combine various techniques with intuitive work.
A relaxation massage is a lovely way to pamper yourself,  to unwind, to fully relax and release stress. I use a combination of the Classic Swedish massage and intuition. The massage is with slow, long strokes and deep circular movements. Generally this massage is for the full body.
Lymph drainage massage is a technique with specific characteristics created to stimulate and excrete waste out of the liquid system in the human body, as the lymphatic system is a part responsible for the liquid circulating within the body, and responsible for the immune system.
This energetic treatment is a combination of relaxation massage, Reiki and the use of crystals. The treatment focuses on deep relaxation and balancing your chakras, your energy points. It supports conscious release and removal of blocked energy.
A Swedish massage is with slow, long strokes, deep circular movements, kneading and passive joint movements. Deep tissue pressure techniques will help to release tense muscles which lie deeper than the surface .
Foot reflexology  is based on the theory that there are zones and reflexes on the feet which correspond to the glands and organs of the entire body. 
Within this foot reflexology massage a wooden rod is used as well.
Massage and Reiki therapy sessions are all by appointment and given on various locations and countries. 
Currently I am working as a nomad therapist, and am traveling through the Netherlands to Southern European countries and will be in Jordan time to time.
Treatments at your home or at another requested location are also possible.
You can check out my current and upcoming locations on this page.
If you are looking for massage treatments at your company you can  contact me for collaborative projects.
Unique personal and healing massage
Jolinda is one of the most professional and highly skilled massage therapists I've been to. I've been seeing her frequently for 2 years and she never failed to impress me with new touches and techniques almost every time, she easily identifies stressed muscles and works on them until relieved and checks the following time to make sure it's all well. I've had a lot of massages throughout my life, in different countries, mostly in 5 star hotels, I can say with confidence that Jolinda is unique, she combines the massage with healing techniques which I'm not really familiar with (I know she is a yoga instructor as well) but they surely leave you relaxed and not wanting to get up, especially the last bit before the end of the massage, she works on the head and face area in a way that I never experienced anywhere else.
Combination of massage and reiki against anxiety
For some time I was suffering from anxiety and tried all kind of things. I came in contact with Jolinda and she really helped me a lot. Not only her massages, in combination with reiki healing, supported me a lot, also her suggestion concern nutrition, (yoga) exercises and breathing techniques helped me. I have never experienced that someone really takes the time for you and offers more than just the massage you come for. Jolinda has a lot of knowledge of different areas that she uses in her holistic approach. And I believe this, in addition to her expertise as a massage- and reiki therapist, makes her unique.
My years of experience with massages and relevant studies
My interest in massages goes back a long time and started with a traditional Thai massage. I gave treatments to friends and this gradually shifted to Swedish and relaxation massages, whether or not combined with Reiki. I read about it, learned online, tried some, adjusted where necessary. And mainly based on my intuition. It took several years before I took up studies abroad to learn more and to master certain techniques. And from there I started giving treatments to third parties.
Certificates:
Thais massage -Wat Po – 1999
Deep Tissue massage and Yoga Therapy – Satva Yoga – 2015
Foot reflexology – TTC spa school: 2019
Lymph drainage -TTC spa school: 2019
Facial massage -TTC spa school: 2019
Herbal massage -TTC spa school: 2019
Reiki level I – 1997
Reiki level II – 1998
Reiki Master – 2017
Would you like to be kept informed and inspired? Then sign up below for my newsletter