Swedish - Deep Tissue massage: Release tense muscles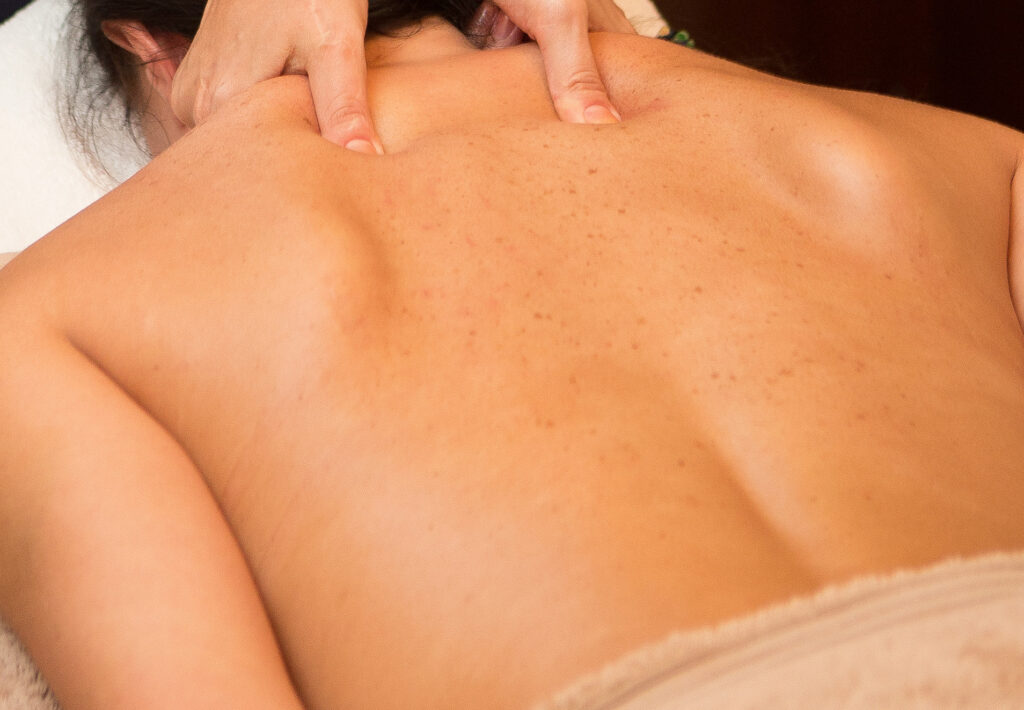 Untie
Regenerate
Recover
Release
When muscles are overused or underused for a longer period of time, due to incorrect body posture, an accident or a health condition, for example, it can worsen pain, cause tight muscles in another part of the body and can have affect our mental health.
The other way around is also possible; mental stress can cause physical discomfort.
Using a series of several techniques and pressure points this combination massage promotes relaxation for body and mind by releasing muscle tension.
What is a Swedish and a Deep Tissue massage?
The main purpose of having a Swedish massage is to increase the flow of oxygen in the blood and thereby releasing toxins from the muscles. 
A Swedish massage uses stronger and softer strokes, deep circular movements, kneading and passive joint movements.  The pressure that is used can vary to allow you to relax but is not painful.
Some  muscles lie deeper than the surface and to reach those  the technique of Deep Tissue is used to  help to sooth these muscles. Pressure on one specific area is being increased. Depending of the tension of the muscles, the pressure could be experienced more painful.  

This massage is generally for the whole body and is tailored to your needs.
Partial massages are also possible. For example if there is a particular concern, like back problems, more time can be spent on this area. 

Natural base oils are used with pure essential oils added.
Special heating balm can be used as well.
Difference Deep tissue and Connective tissue massage.
Deep tissue is not the same as a Connective Tissue massage. although both massages contain the word tissue, there is a difference
A connective tissue massage is mainly aimed at massaging the connective tissue that is between your muscles and your skin. With a Deep Tissue massage, a lot of attention is paid to your muscles, both surface and deep muscles.
Benefits Swedish and Deep Tissue massage can offer
There are many benefits associated with Swedish- and Deep Tissue  massage, both for the body and the mind.
Physical health benefits
Improves en stimulates blood circulation
Relieves cramps and muscles spasms
Loosens tight muscles and stretches connective tissues
Helping to keep tendons and ligaments supple
Calms the nervous system
Relieves symptoms of various disorders like asthma, arthritis and other chronic diseases.
Relieves pain syndromes
Decreases muscle fatigue
Speeds up healing time from injury or illness
Increases muscle strength
Reduces physical stress
Easing muscular strain by removing toxins
Firms up muscle and skin tone
Improves lymphatic drainage
Mental and emotional health benefits
Mental relaxation
Relief from stress, anxiety, depression and irritation
Improves sense of well-being
Increases concentration
Promotion of better sleep
The benefits usually lasts several days after receiving a treatment. Some discomfort can dissolve after several treatments, for longer period of time or even completely.
If you feel uncertain if you can have a deep tissue massage, kindly discuss with your doctor to get clearance.
Combination of firm and soft massage and Reiki against anxiety
For some time I was suffering from anxiety and tried all kind of things. I came in contact with Jolinda and she really helped me a lot.  Not only her massages, in combination with reiki healing, supported me a lot, also her suggestion concern nutrition, (yoga) exercises and breathing techniques helped me.
I have never experienced that someone really takes the time for you and offers more than just the massage you come for. Jolinda has a lot of knowledge of different areas that she uses in her holistic approach. And I believe this, in addition to her expertise as a massage- and reiki therapist, makes her unique.
Paula – Bank employee
Prices of Swedish Deep Tissue massage
1 hour: € 59
30 minutes extra: € 20
Package of 5 treatments: -10%
Would you prefer a longer treatment or a combination of other types of massages? Kindly let me know and we'll discuss the options.  
The first appointment can take around 15 minutes longer due to an intake interview.
Location for Swedisch Deep Tissue treatment: Holland, South Europe and Jordan
Massages are all by appointment.
Treatments are possible at your home, at your company or at another desired location.
As I currently work as a nomadic therapist, the locations vary between the Netherlands, Southern Europe to Jordan.
You can check out my current and upcoming locations on this page.
If you are looking for treatments for your company or center, I would be happy to look at the possibilities together.
Would you like to be kept informed and inspired? Then sign up below for my newsletter