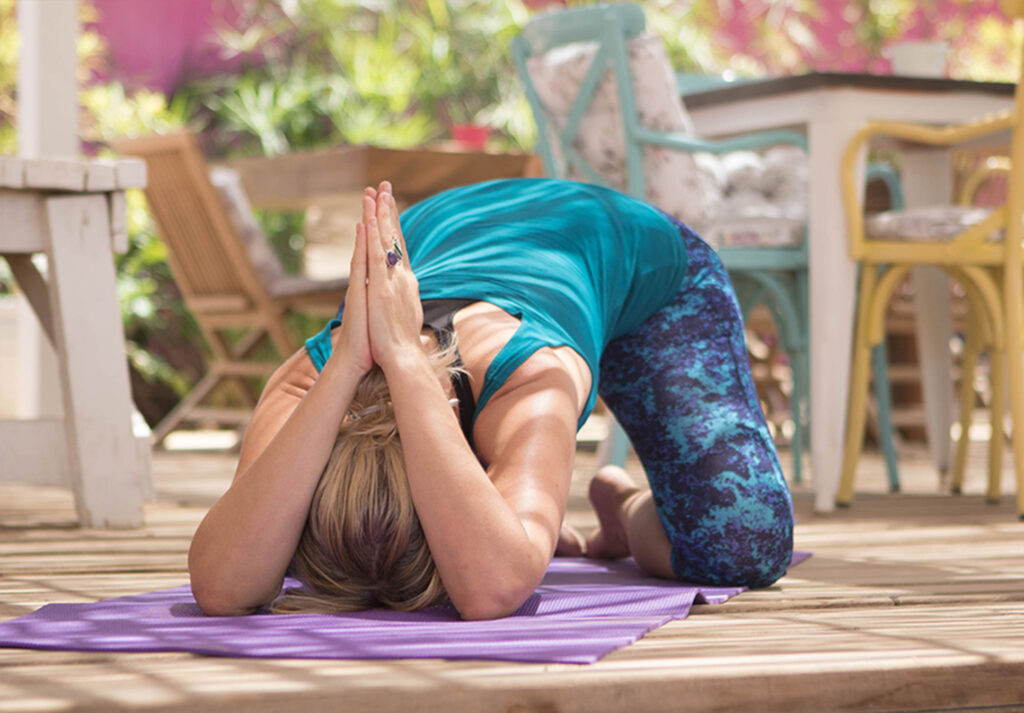 Balance
Strength
Relaxing
Awareness
Yoga and Meditation for more balance between body and mind.
Yoga, meditation, mindfulness and breathing exercises can help you find more balance with regard to your life, your work, what your priorities are and your challenges and limitations.
Yoga for mental and physical health
Yoga is a great way to stretch, build muscle strength and endurance, improve flexibility, build balance, optimize organ function, achieve long-term wellness, access our inner intelligence, relax, and improve the overall quality of our lives.
Yoga is for individuals of all ages and all levels of experience and fitness.
Whether this is your first yogic experience or you've been practicing for decades,  my approach customize the yoga experience to your needs and abilities.
I will serve you in a manner that is beneficial, attainable and enjoyable. 
In our modern life the balance between body and mind is often disrupted. Yoga offers us exercises that restore the balance. It makes the mind and body lively and flexible. Through yoga, you learn to listen to your own body.
Like me, many people start to do yoga to relax. When I made my first steps on the yoga mat, over 25 years ago, I soon discovered yoga had so much more to offer. 

Reason to do yoga could be that you:
Want to learn to relax yourself better
Wish to attain optimal physical, mental and emotional health and well-being
Are advised by your physician or physical therapist to practice yoga
Want to experience a deeper connection to yourself and to the world that surrounds you
Want to be more aware of your body
Want more control of your body
Want to improve your sense of balance
want to decrease feelings of stress, fear and anxiety
You do not breathe properly and want to do that better
Want to be more flexible
Want to develop your spirituality
Would like time to yourself
Because it's fun!
Yoga is not all being silence and serious. We laugh as well.
The base of the yoga classes lies in Hatha yoga, supplemented by other styles such as vinyasa and yin-yoga.
I often implement various breathing techniques, vipassana -and mindfulness meditation.
The form and intensity of the class is adjusted to your wishes and possibilities, or those of a group.
I take into account everyone's possibilities and limitations and at physical and mental challenges.
In private classes of 1 person or small group, we can deepen  individual processes.
Meditation for relaxation and awareness
Meditation is so much more then getting relaxed at the moment you sit still.  Relaxation is more a result of your practice.
Sometimes you feel so calm after just a few minutes.
Other times, it could be very challenging and difficult to focus and your mind is busy. 
By regular practice you will notice the benefits of meditation in your daily life. 
You may gain more equanimity. Being more aware of your own actions and thoughts.
And when you are aware of this you can change them. 
I give classes in Vipassana – mindfulness meditation. 
Vipassana is also known as Insight Meditation.
It is the basic of all Mindfulness and Awareness training.
Vipassana meditation and mindfulness is free from any religion. It  is for individuals of all ages and all levels of experience. 

Mindfulness is paying attention in a particular way, on purpose.  In the present moment and nonjudgmental. Mindfulness involves a conscious direction of our awareness.  
The sessions can vary from 20 – 60 minutes.
Benefits of Vipassana and mindfulness meditation:
In the last few decades many scientific researches have been made and many have proven the benefits you get from meditation, Mindfulness and Awareness training.  
Just to mention a few: 
Reduces stress
Increases your focus and concentration bow
Increase your empathy and compassion
Helps you to be guided less by your emotions
Helps with anxiety
Increases your creativity
Improves your relationships
Relieves aches
Improves your decisions
Improves your mood
Gives you more mental resilience
€ 30 / JD 25 per hour – up to 3 people
€ 10 / JD 8 per person  for groups of 4 people and more
After class tea or a refreshing drink is served.
Possible additional costs:  travel costs and travel time,  depending on the location.
All possibilities and final prices will be discussed and confirmed in advance.
Take a peek inside of my classes and retreats
Yoga and meditation classes are  given in Aqaba, Jordan.
On request session can be hold on other locations, like Wadi Rum.
Additional travel costs will be added then. 
Yoga and meditation retreats are given in Aqaba or Wadi Rum. 
Other locations are possible or request. For more information, kindly check Retreats. 
What to wear and bring to the class
Comfortable clothing in which you can sit easily with meditation and move easily during yoga.
Water if desired
Yoga mat or reserve a mat in advance.
Meditation pillow or meditation stool if you have your own
My years of experience with yoga and meditation
About 25 years ago, I took my first step into a yoga studio. Those first years my weekly yoga practice was mostly for a moment of relaxation and working on my flexibility. Without realizing it, yoga offered me so much more than that. This I recognize with many people to whom I give classes to now.
After my first yoga years, I deepened my practice and started Vipassana meditation. My first reason was to become more calm in mind and to get more insight in myself. In the beginning I found it not easy at all and my first Vipassana silent retreats were very challenging but also gave huge insights about myself. 
I took a few private yoga classes during my stay in Aqaba. The icing on the cake of the great sessions were the sun sets with sea view. A perfect way to end my day. Jolinda has a nice combination of giving a good buildup of the classes, being joyful and knowledgeable of the body and mind.
The classes are accessible and different every time. I love the small groups and that each student always receives personal attention and corrections doing a pose when necessary. At the end of the class, while enjoying tea, we take an 'insight or healing card', and there is room to discuss this card.