Thai Foot reflexology massage: Treat your whole body via the reflexes on your feet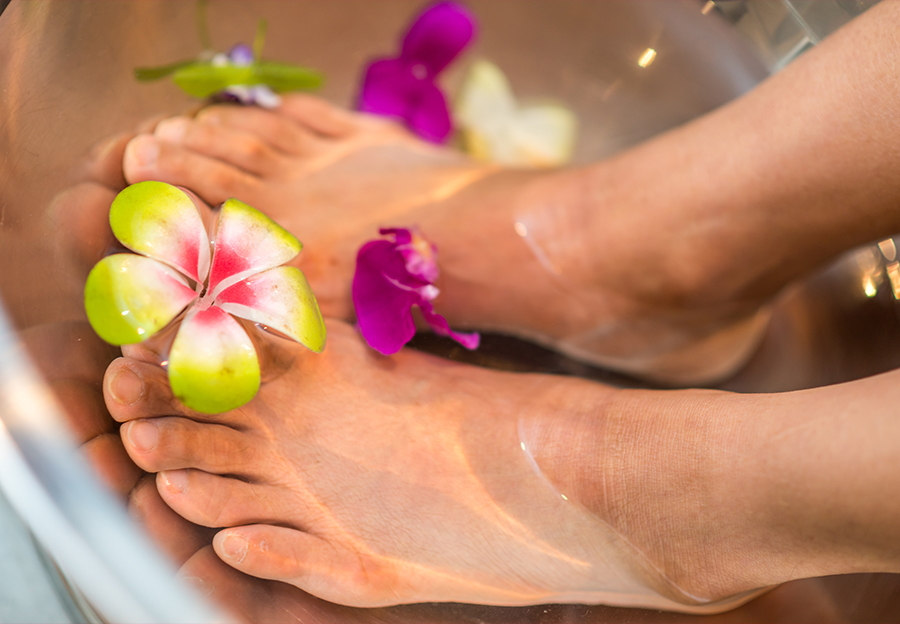 Stimulating
Preventing
Relaxing
Curing
With a foot reflexology massage your whole body is being treated. And it can improve your general mental and physical well-being.
It can help prevent and cure many ailments and detect unbalance in organs.  
In addition, this massage also ensures that you feel deep relaxation.  
What is a Thai Foot Reflexology massage?
Foot reflexology  is based on the theory that there are zones and reflexes on the feet which correspond to the glands and organs of the entire body. This massage technique works on the reflexes of the body through their nerve endings on the foot.
By massaging on certain zones on the feet, systems of the body are stimulated through nerve endings which can improve circulation and blood flow to all vital organs; it helps the organs function more effectively.
It can create a warm and refreshing feeling in the body.  It also helps relax muscles which may be tired or tight.  This type of massage can reduce the body's susceptibility to illness.
This Thai foot reflexology  massage uses some aspects of ancient Chinese techniques and influenced by Thai traditions and practices, with further adaptations from more recent research and knowledge.
Generally, during this massage, you are is sitting position and the massage will be on the feet and lower legs.
Special balm and oil is used within this massage. Partly a wooden rod is used on certain points on the foot and the sole of the foot.
Prevent and detect sickness.
Foot massage can stimulate the bodies' immune system to prevent sickness in the early stages.
If an organ in the body is not functioning properly and when we press on the zone of the sole that is linked to this organ, it may feel tender and cause pain. If there's severe pain when this area is pressed on, it means this organ is seriously affected.  If there is little pain, the problem is smaller.
Benefits Thai Foot Reflexology massage can offer:
You can chose this kind of massage, instead of a full body massage, if you have the need  to treat a specific ailment.
Or when your body has sunburn, or other sensitivities and the skin of your body cannot be touched.
Stimulates the body's' immune system to prevent sickness
Alleviates depression and anxiety
Improves sleep patterns
Relaxes and helping stress management
Aids in the relief of aches, pains and tension
Relieves pain and stiffness caused by over exercising or using muscles excessively
Improves the efficiency of the blood circulation system
Relieves asthma and sinusitis and can help to prevent and cure it
Assists homeostasis process of the body
Helps to eradicate hiccups
Relieves headaches and can prevent and cure migraine
Helps reduce and eliminate allergies
Relieves backaches
Aids digestive system and bowel movement problems such as constipation
When you should not have a foot reflexology massage?
If you just have been treated by some therapy such as irradiation
If you are pregnant
If you are very sick or recovering from a serious illness.
When you have a serious contagious disease.
If you feel uncertain if you can have a Foot reflexology massage, kindly discuss with your doctor or specialist.
Feeling lighter and relaxed through foot massage
I had a great experience doing the foot reflexology; it was different and better than what I had before, with more depth and tension to the pressure points, I felt lighter and more relaxed after the session. Also to my surprise I felt pain in the same particulate pressure point in both feet, which indicates weakness in the related organ, it is something I need to have a look at soon. Very recommended.
Sam- Manager
Prices of foot reflexology massage
30 minutes:  € 35
1 hour: € 50
Note: Kindly wear clothing that is wide enough so that it can reach above your knees during the massage.
Would you like a combination of other types of massages? Kindly let me know and we'll discuss the options.
The first appointment can take around 15 minutes longer due to an intake interview.
Location for foot reflex treatment: Holland, South Europe and Jordan
Massages are all by appointment.
Treatments are possible at your home, at your company or at another desired location.
As I currently work as a nomadic therapist, the locations vary between the Netherlands, Southern Europe to Jordan.
You can check out my current and upcoming locations on this page.
If you are looking for treatments for your company or center, I would be happy to look at the possibilities together.
Would you like to be kept informed and inspired? Then sign up below for my newsletter